Bo Xie of UT-Austin to speak May 13 on "Aging in the Digital Health Era"
---
Bo Xie of UT-Austin to speak May 13 on "Aging in the Digital Health Era"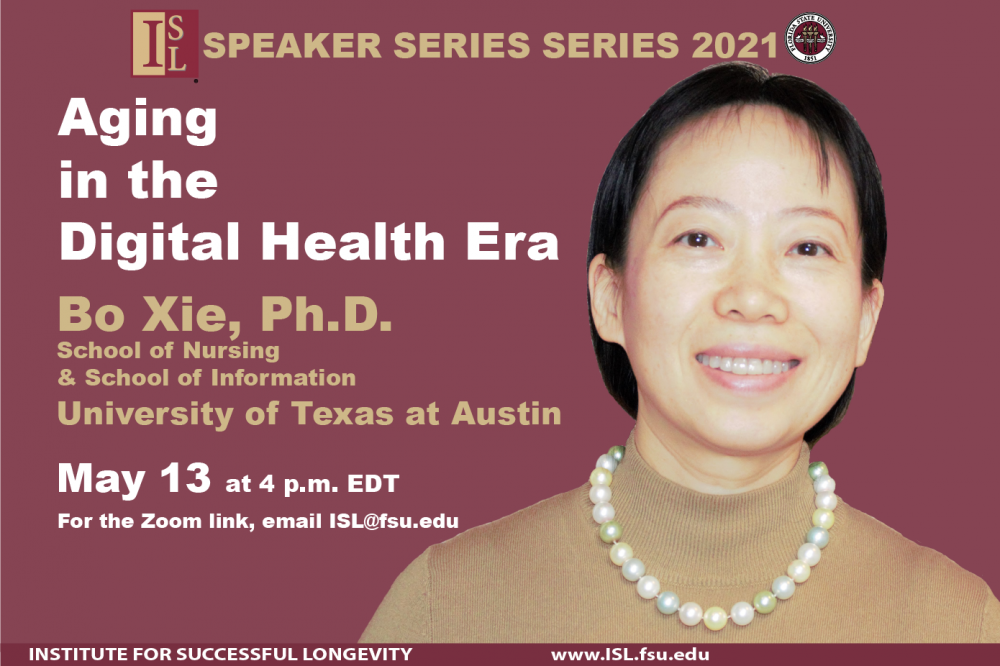 March 19, 2021
You are invited to hear Bo Xie, Ph.D., of the University of Texas at Austin talk on "Aging in the Digital Health Era" at 4 p.m. May 13, via Zoom.
Her address is part of the Institute for Successful Longevity's Speaker Series. To get the Zoom link, send an email message to ISL@fsu.edu.
Dr. Xie, professor in UT's School of Nursing and School of Information, conducts research focused on understanding the needs of older adults for health information and services and how technology can be designed and used to meet these needs. Her research has implications for reducing digital inequalities and ensuring patient-centered care in the digital health era.
Dr. Xie, a Fellow of the Gerontological Society of America, received her bachelor's degree in Medicine from West China University of Medical Sciences in Chengdu, her master's degree in Psychology from Peking University in Beijing, and her doctorate in Science and Technology Studies from Rensselaer Polytechnic Institute in Troy, New York.
Her research has been funded by the National Institutes of Health, the National Science Foundation, and the Institute of Museum and Library Services; to date, her work has generated more than 90 publications.
If you are new to Zoom, check out the how-to guides, developed by the Institute for Successful Longevity, that show how to start your Zoom account, join an online presentation and even create your own Zoom events. You can review and download the free guides here: https://isl.fsu.edu/article/isl-launches-zoom-initiative-help-older-adults-fight-social-isolation.