Read the May 2022 edition of the Institute for Successful Longevity's ISL Newsletter
---
Read the May 2022 edition of the Institute for Successful Longevity's ISL Newsletter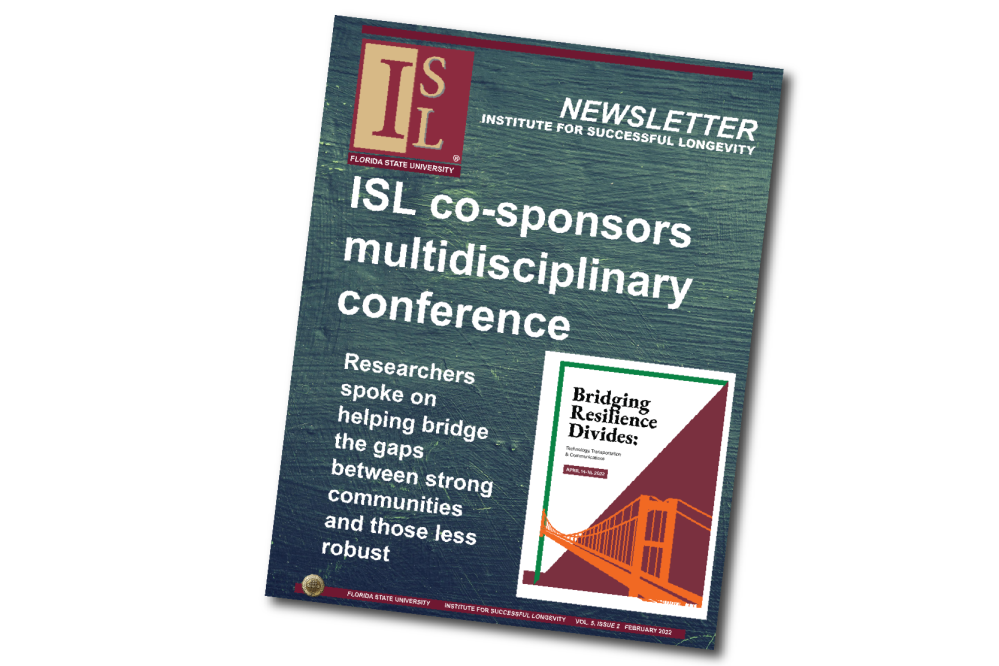 May 2, 2022
The latest edition of the ISL Newsletter features Bridging Bridging Resilience Divides: Technology, Transportation & Communications, a multidisciplinary conference co-sponsored by the Institute for Successful Longevity and held at FSU's Turnbull Conference Center. Read or download the May newsletter HERE.
Also in the newsletter:
ISL Director Neil Charness reviews the latest research and finds troubling concerns regarding COVID and cognitive health.
ISL awards its 2022 ISL Planning Grants to Faculty Affiliates Brad Schmidt, Geraldine Martorella and Zhe He.
Faculty Affiliate Amy L. Ai named an FSU Distinguished Research Professor.
ISL awards its Esther & Del Grosser Scholarship to Amy Mullins, doctoral candidate in the Department of Nutrition & Integrative Physiology.
Matthew "Jake" Martenson wins ISL's 2022 Student Poster Day competition.
Faculty Affiliate Jasminka Ilich-Ernst wll conduct research in Serbia as thanks to a Fulbright Scholar Award.