Yanshuo Sun leads team developing mobile app that opens way for easy use of Dial-A-Ride by older adults
---
Yanshuo Sun leads team developing mobile app that opens way for easy use of Dial-A-Ride by older adults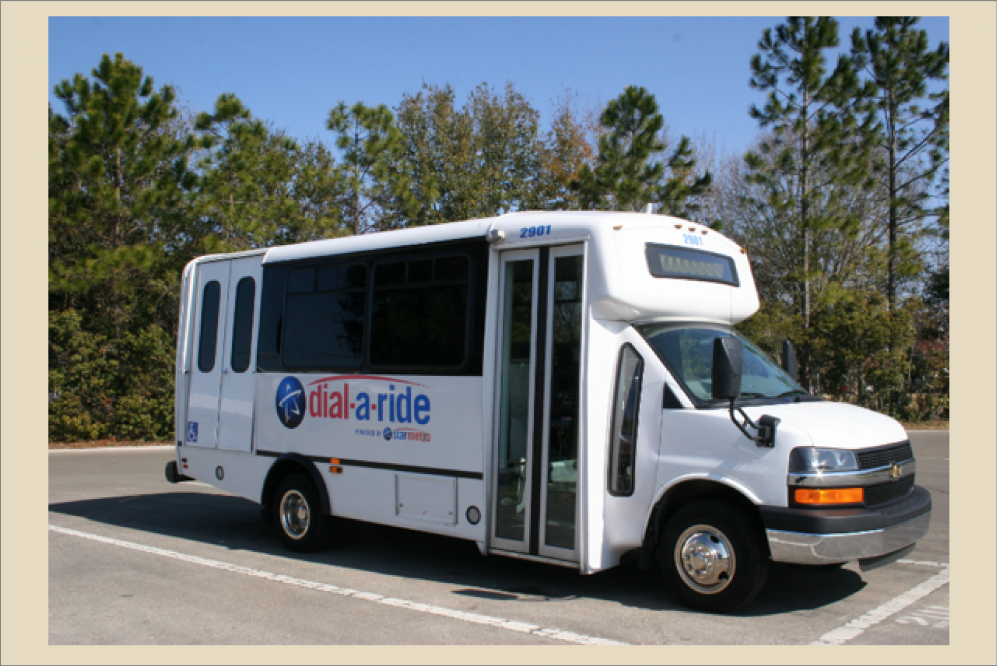 January 7, 2021
By Yanshuo Sun, Ph.D. FAMU-FSU College of Engineering
Accessible transportation is essential for successful aging, because quality of life cannot be sustained unless older adults have reliable and affordable access to social, medical, and other essential services. This is why Dial-A-Ride is vital to many older adults and why my research team created a prototype mobile app for Dial-A-Ride users.
When older people cannot drive and are unable to use fixed-route public transit, their primary means of getting around is Dial-A-Ride, which was originally required by federal laws to provide equitable mobility services for those individuals with disabilities. Such Dial-A-Ride services are now provided by public transit agencies or their contractors throughout the United States and made available to other population groups such as seniors. For example, Seniors aged 60 or older are eligible for Dial-A-Ride services provided by the City of Tallahassee through the local transit operator, StarMetro.
The way how Dial-A-Ride works can be briefly described as follows. To request services, riders must call the dispatch center at least one day prior to their intended travels, specifying their intended pickup and drop-off locations as well as any travel-time windows. After feeding all rider requests that have been received by a cutoff time (such as midnight) to a vehicle routing and scheduling system, the Dial-A-Ride dispatcher determines how riders would be served by which vehicles at what times. Such pickup time windows would be announced to riders afterward. On the day of intended travel, which is one day later, shared vans (that are usually wheelchair-compatible) are dispatched to pick up and drop off those riders during the prearranged time windows.
It is very challenging for providers to achieve a high level of Dial-A-Ride service quality while keeping the operating cost relatively low. Several major issues with current Dial-A-Ride services are summarized as follows:
Severe financial deficits — By regulation, the fare paid by Dial-A-Ride riders must be comparable to the regular fare for a trip of similar length at a similar time of day using the fixed-route bus or rail services. However, the actual cost per passenger trip easily can be 10 times larger than a regular transit trip, due to the specialized vehicles, relatively low vehicle occupancy, and more labor hours per passenger. Significant external subsidies are needed to make the operations break even.
Lack of real-time travel information — Dial-A-Ride riders have little real-time information about their travel reservations and vehicle status, because the number of agents available in the call center is usually very limited, just one or two workers, and the phone-based communication is the bottleneck. The lack of real-time travel information directly contributes to the poor travel experience. For example, due to unpredictable travel times and other incidents (e.g., a vehicle breaks down), riders usually experience significant delays if they get ready according to the predetermined schedule, while the vehicle is off schedule.
Low responsiveness to requests — Nationwide, Dial-A-Ride riders face a significant waiting period, and trip reservations must be made at least one day in advance. A request for same-day pickup is rarely accommodated. By contrast, non-paratransit travelers who can afford ride-hailing services offered by Transportation Network Companies (TNCs, such as Uber or Lyft) are usually picked up within a few minutes of request.
These issues result in significant inconvenience at best and create a severe barrier to mobility at worst. The comparison of Dial-A-Ride to TNC services further indicates the clear mobility disparity between Dial-A-Ride riders and other general riders. TNC riders can usually book rides a few minutes prior to their travels rather than one day in advance. TNC riders can book rides anytime and anywhere through their mobile devices and track the status of vehicles in real-time. Dial-A-Ride users must reply on phone communication when booking rides or requesting travel information updates.
To address part of these issues, my research team recently developed a prototype mobile app so that Dial-A-Ride riders are able to use mobile devices (e.g., smartphone or tablet) or wearable devices to submit their travel requests and track the vehicle status, in addition to the existing phone-based communication. Dial-A-Ride service providers can also push travel alerts and trip reminders to their riders when needed. This app can bring a number of practical benefits. First, passengers will possess better travel information and enjoy greater travel flexibility, because they have the two-way real-time communication with the dispatchers and some same-day travel requests can be accommodated. The overall travel satisfaction is thus likely to increase. Second, effects of no-shows or last-minute cancellations can be minimized, because riders can get ready to be picked up in advance due to their greater awareness of vehicle status and travel disruptions, such as cancellations, can be communicated in real-time so that vehicle routes can be updated accordingly.
Thanks to the valuable financial support from the Institute for Successful Longevity as well as technical support from the Big Bend Transit (a Dial-A-Ride operator in five counties in North Florida), the app was initially developed and tested among a small group of Big Bend Transit riders. Greater support and research efforts are needed to improve its design and launch it in the real world. One of the key barriers is that local Dial-A-Ride operators such as Big Bend Transit do not have the financial capacity to explore technology innovations, as the revenues and funding they receive mainly cover day-to-day operations. While government agencies, such as the Florida Department of Transportation, support innovative research ideas for highways, airports and other major transportation modes, upgrading Dial-A-Ride services has not yet become a funding priority. The private sector is unlikely to be motivated, as Dial-A-Ride operations are simply unprofitable. Therefore, without other research support, there is a long way to go before Dial-A-Ride riders could truly benefit from such mobile technologies that are already widely enjoyed by other riders.
Dr. Yanshuo Sun is an Assistant Professor at the FAMU-FSU College of Engineering. He is also a Faculty Affiliate of the Institute for Successful Longevity. Dr. Sun can be reached at y.sun@fsu.edu.