Are American universities age-friendly institutitions? ISL assists Umass Boston with nationwide study
---
Are American universities age-friendly institutitions? ISL assists Umass Boston with nationwide study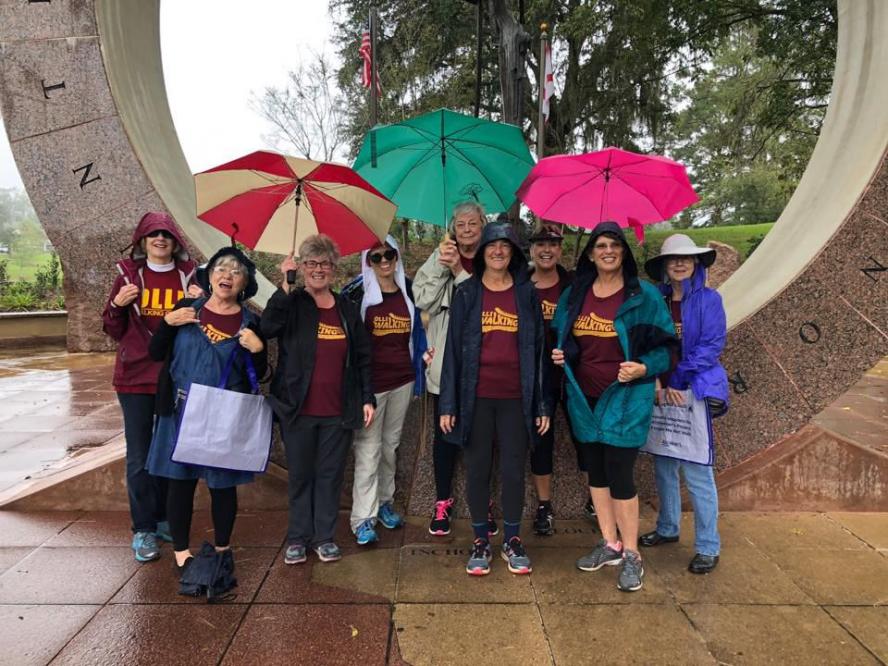 January 6, 2021
A rainy day doesn't slow down a walking group with FSU's Osher Lifelong Learning Institute; OLLI is a key part of the university's age-friendly focus.
The Institute for Successful Longevity is assisting a study to determine whether U.S. colleges and universities are age-friendly institutions and welcoming to seniors."The goal of the study is to gauge where age-friendliness now stands in American higher education," said Callie Kindelsperger, ISL's administrative assistant, who is working with the project.
Age-Friendly University is an international effort, launched by Dublin City University in Ireland and now active in many nations, that highlights the role higher education plays in meeting the challenges and opportunities of an aging population. In 2017, Florida State University became the first university in the South to be named an Age-Friendly University.
In the study funded through RRF (formerly the Retirement Research Foundation) and led by researchers at UMass Boston, ISL along with other institutions across the nation will conduct surveys designed to:
Identify benchmarks for age-friendly programs and practices.

Evaluate the utility of the Age-Friendly University Inventory and Campus Climate Survey for measuring campus age-friendliness.

Compare the "actual" and "perceived" age-friendliness of institutions.

Provide recommendations for advancing age inclusivity in higher education.
The study design calls for ISL and the other participating campuses to first conduct an inventory of campus practices from various administrative units throughout each of the 36 campuses in the study. The study will then follow with a Campus Climate Survey of faculty, staff, students and life-long learners and their perceptions across three areas: campus practices (research, testing services), age-friendliness (climate), and personal beliefs about aging.
Key to the study are the Age-friendly University initiative's 10 principles for distinguishing and evaluating age-friendly programs and policies:
To encourage the participation of older adults in all the core activities of the university, including educational and research programs.

To promote personal and career development in the second half of life and to support those who wish to pursue second careers.

To recognize the range of educational needs of older adults (from those who were early school-leavers through to those who wish to pursue master's or Ph.D. qualifications).

To promote intergenerational learning to facilitate the reciprocal sharing of expertise between learners of all ages.

To widen access to online educational opportunities for older adults to ensure a diversity of routes to participation.

To ensure that the university's research agenda is informed by the needs of an aging society and to promote public discourse on how higher education can better respond to the varied interests and needs of older adults.

To increase the understanding of students of the longevity dividend and the increasing complexity and richness that aging brings to our society.

To enhance access for older adults to the university's range of health and wellness programs and its arts and cultural activities.

To engage actively with the university's own retired community.

To ensure regular dialogue with organizations representing the interests of the aging population.
"We are pleased to be part of this study, which we hope will determine where American universities are succeeding in providing for people of all ages and reveal points of weakness that university leaders can address," said Neil Charness, Director of the Institute for Successful Longevity.