Electric vehicles, revisited: Florida's future tech and people with disabilities
---
Electric vehicles, revisited: Florida's future tech and people with disabilities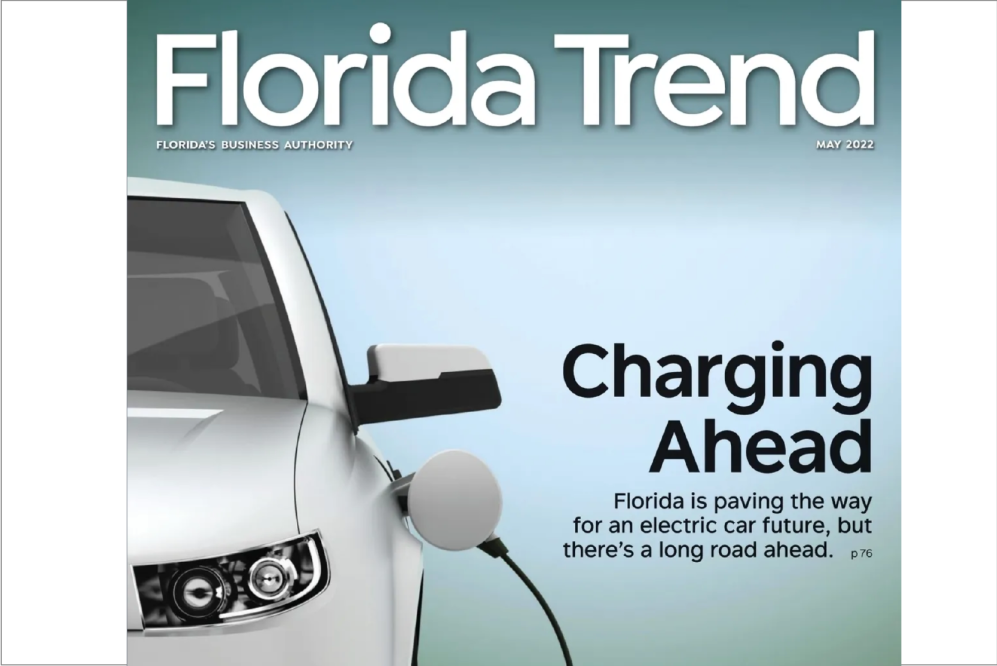 June 16, 2022
JR Harding, Ed.D., Teaching Faculty II, College of Business
The recent article by Amy Keller within the May edition of Florida Trend was both illuminating and scary at the same time. Amy deserves a quick shout out for her article, "Future Shock." I found it to be an excellent 50,000-foot  overview of the current use of electric vehicles (EVs) in Florida. It was interesting to learn about some of the rationale behind customer preference and aspirational goals of manufacturers to change customer purchasing choices.
Issues raised in the article caught my attention like a lightning bolt. These included the hurricane evacuation challenge, manufacturers' goals, and infrastructure changes. 
Due to the inevitability of change within the vehicle industry, I went shopping for an EV to fit my needs. Much to my dismay, my dealer informed me that I needed to take excellent care of my current vehicle, a 2017 Toyota Sienna, for a very long time because none of the models coming on the market could accommodate my adaptive needs as a quadriplegic. Worse, the carmaker was discontinuing the pre-2018 models of my van that allowed for appropriate modifications and future maintenance. This van came from the factory with the basic Accessibility features like a ramp and tie downs, making other alterations easier and more affordable. This is the same story that occurred with my previous vehicle, a Ford E-150, when Ford stopped making the chassis that could easily accommodate vehicle modifications. I feel like the character Bill Murray played in Groundhog Day. As soon as I get comfortable with a product and its technology, I start the process over.  
In the article, Keller highlights the perspective of a fellow Floridian with regards to the alleged added value of owning an EV for hurricane evacuation. Hurricane evacuations are something no Floridian can ignore. We all must have a plan. Not only should the plan include how to get away from the storm but also where to stay during this disruption in our lives.
Both issues make me realize how vulnerable I am as a person belonging to the minority (persons with a disability). My plan to evacuate to the Atlanta area could never be fulfilled because I could ill afford to get caught on the freeway without fuel. But more importantly, I could never find the 1% of hotel rooms that could accommodate my needs. They were always legally filled by persons without disabilities who had evacuated earlier from South Florida. It is permissible to fill accessible rooms by persons without disabilities during hurricanes, sporting events, and other high-volume activities. The only practical solution was to harden my house and to install an expensive generator that automatically turns on.
Even if I could book  an evacuation site, traveling there in an EV would have me face the added barrier of the limited number of charging stations and their lack of accessible features, which make refueling independently impossible. Also, the number of accessible hotel rooms along most evacuation routes are inadequate to meet the needs of the aging population. 
Another lightning bolt was the aspirational goals of some of the major manufacturers like Honda, Ford, GM, etc. In less than 13 years, they hope to have a large percentage (80%) of their vehicles running on electricity. This goal also makes me vulnerable as a member of the minority community because currently none of the models can accommodate the needs of persons with disabilities. The battery systems directly interfere with the lift system by occupying the space in which retractable lifts are housed or bolted to the chassis floor.  They also have reduced ceiling heights, which preclude persons with disabilities from simply getting into the vehicle, let alone driving it with adaptive equipment.
The average price point for these EV vehicles is about 33% more than traditional gas vehicles. The add-on costs for many within the disability space can exceed 60k on top of the vehicle cost. Therefore, we may be looking at very significant sticker shocks that may also price us out of EV market altogether. To give the reader context, my modified 2017 Toyota Sienna was about 110k total. In today's super inflation prices, just to replace my existing vehicle, the price point would be well over 125K.
As public policy "manages" and articulates standards, the private sector will build out the new EV infrastructure. What is unknown is how are persons with disabilities going to be integrated into those policies, procedures, and services? The ADA Act and Rehab Act state that persons with disabilities shall be accommodated with equal access to goods and services. But what does this really mean? What are the standards for "equal" access? If we look back one the recent history of on Demand Transportation, equal access to goods and services did not go very well. Uber and Lyft had to be taken to court not once, but twice for discriminatory practices. Even after that, we still do not have equal access to these goods and services across all our communities. 
Due to Florida's population increasing faster than other states, it would be in our greater interest to get ahead of this emerging problem rather than try to bolt persons with disabilities into a system that's already been built. Making room at the table after-the-fact is not an equal seat. It's like keeping us on the "back of the bus" because that's the easiest thing to do. 
The one thing that I have learned in my 38 years as a quadriplegic and an advocate within the public policy arena is that reasonable accommodations to fix a systemic problem is not a sustainable approach (because it's one person at a time). Designing electric vehicles with universal features from the start would make better sense and would not result in leaving 20% of the population (or 61 million Americans) wondering if they can buy or use this new technology. We do not want to create two separate mobility systems. One system for those without disabilities and another system for persons with disabilities that would just further advance the discrimination which is already present. 
The Florida Department of Transportation and our elected officials need to be clearer and more aggressive with their expectations for universal design and accessibility standards that will ensure EV product availability and the supporting infrastructure serves all Floridians, not just some.
Advancements in technology should be able to accommodate a wider variety in needs rather than limiting the scope of application. After all, it will take public and private partnerships to support the refueling and connectivity needs of these new EV and automated vehicles of the future.