Study finds older Americans did not feel lonelier, despite social distancing recommendations and stay-at-home orders
---
Study finds older Americans did not feel lonelier, despite social distancing recommendations and stay-at-home orders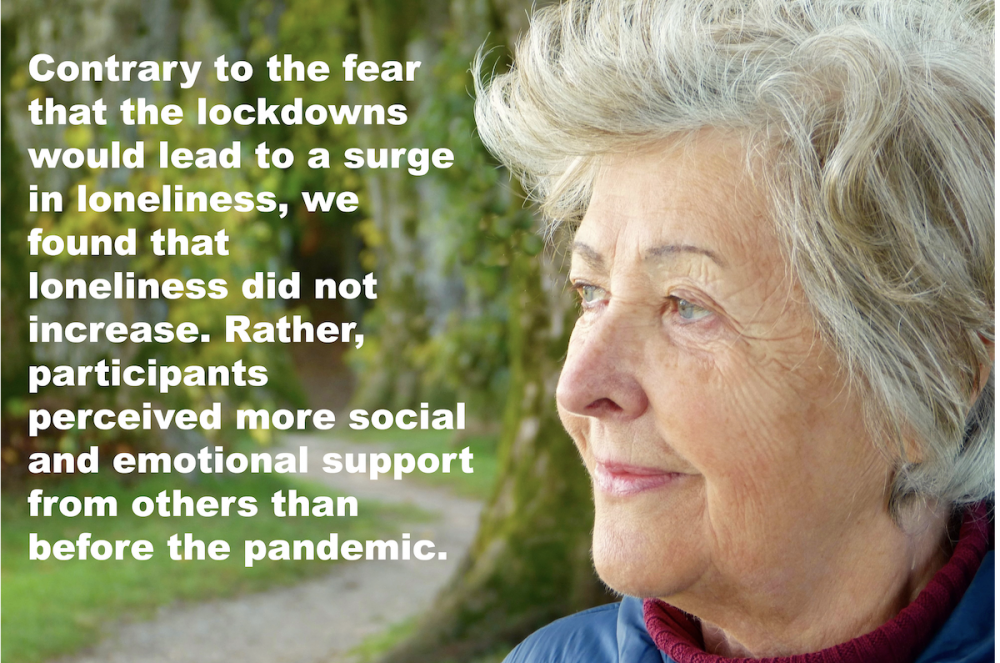 September 17, 2020
MARTINA LUCHETTI, Ph.D. — FSU College of Medicine
Since the beginning of the COVID-19 pandemic, there has been concern that the social distancing measures to contain the outbreak would increase loneliness. Social distancing and stay-at-home orders have been essential to slow the spread of the virus, but many leading voices, including the American Psychological Association, questioned the impact of such measures on feelings of social connection, particularly among older adults.
Loneliness is a well-known risk factor for poor physical and mental health. It has been linked to developing chronic disease, depression, and is associated with premature mortality. In the context of the coronavirus pandemic, it may be particularly difficult to re-connect with others given the restrictions on in-person contacts and social gatherings. It seems likely that such restrictive measures would increase feelings of loneliness. 
Older adults are one high risk group for both severe illness from COVID-19 and for loneliness and have been strongly encouraged to "stay home and away from other people" (White House, 2020) to avoid catching the virus (see CDC, 2020). As such, there may be dangerous unintended consequences for this group, if social restrictions are protracted over time.  
Our research group at Florida State University's College of Medicine has a large project to monitor psychological and behavioral responses during the COVID-19 pandemic (Lab Directors, Dr. Angelina Sutin and Dr. Antonio Terracciano). One aim of this research was to examine how loneliness and perceived support from others changed from before to during the acute phase of pandemic, after most states had issued stay-at-home orders (Luchetti et al., 2020, American Psychologist).
The study assessed an online panel of Americans (ages 18-98) from across all 50 states and the District of Columbia and Puerto Rico. We first asked participants to complete a survey in late-January early-February that was unrelated to COVID-19. At that time, the virus was not yet considered a threat to the United States. When the closures began in mid-March, we re-contacted participants to survey them again about their loneliness, mental health and responses to the pandemic. This second assessment was during the "15 Days to Slow the Spread" guidelines from the White House. We later re-contacted participants for a third assessment at the end of April, when most state and local governments had issued stay-at-home orders that closed schools and non-essential businesses and had advised residents to stay home and limit social contact. 
We tested how loneliness and perceived support changed over these three assessments. We also examined whether loneliness increased in specific at-risk groups — specifically, in older adults (versus younger age groups), individuals with pre-existing medical conditions that increased their risk for severe illness from COVID-19, and individuals living alone.
Contrary to the fear that the lockdowns would lead to a surge in loneliness, we found that loneliness did not increase across the three assessments. Rather, participants perceived more social and emotional support from others than before the pandemic. 
There was a small increase in loneliness among older adults (over 65), but it is important to note that older adults reported less loneliness overall compared to younger age groups, even with the small increase. Moreover, this increase leveled off by the assessment at the end of April. 
There were no differences in the other two groups examined: Individuals living alone and those with at least one chronic condition felt lonelier at the first assessment but did not increase in loneliness after the start of the social distancing measures.
These findings suggest remarkable resilience. The measures taken to reduce the impact of the pandemic physically cut people off from one another. However, even while physically isolated, the increased feelings of social support and of 'being in this together' might have helped limit increases in loneliness. From the start of the pandemic, there have been anecdotal reports of people calling their family and friends more often and finding creative ways to stay connected. This might explain the increase in perceived support observed in the study and why there were no changes in loneliness. 
It should be noted, however, the necessity to monitor loneliness over time as the current situation evolves. Our study examined loneliness levels during the acute phase of the coronavirus outbreak in the United States. The next step is to examine long-term effects of social distancing on loneliness and other mental-health outcomes. The situation is fluid, and more social restrictions might be necessary to control resurgence of waves of contagion until a vaccination is available. For groups at risk, such as older adults, it may be useful to have preventive programs in place that offer support to face the current crisis.