Three researchers win ISL Planning Grants for 2019
---
Three researchers win ISL Planning Grants for 2019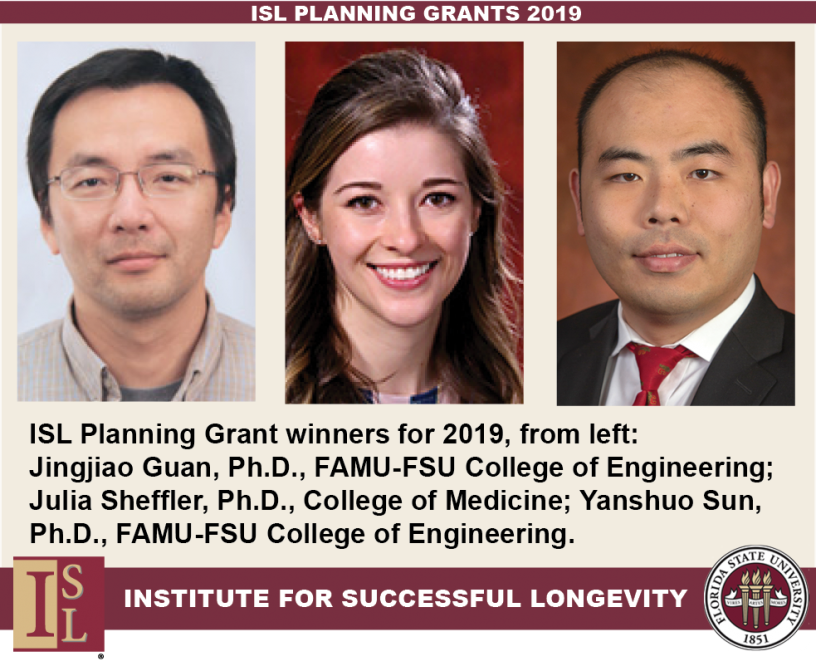 June 6, 2019
After a competitive application process and review, three Florida State University researchers have been awarded ISL Planning Grants from the Institute for Successful Longevity.
"We had a strong group of applications for the ISL Planning Grants this year," said Neil Charness, Ph.D., director of the institute. "I am pleased that ISL can provide assistance to these researchers and their projects."
The 2019 ISL Planning Grants are awarded to:
Jingjiao Guan, Ph.D., of the FAMU-FSU College of Engineering, for his proposal on developing a new therapy for treating solid cancer tumors.  The results of his study will be used as preliminary data for a grant proposal to be submitted to the National Institutes of Health. His co-PI was the late Teng Ma, Ph.D., chair of the Department of Chemical and Biomedical Engineering in the FAMU-FSU College of Engineering.
Julia Sheffler, Ph.D., of the College of Medicine's Center for Translational Behavioral Research, whose project aims to translate findings on ketogenic diet and Alzheimer's disease into a new behavioral intervention to prevent Alzheimer's using the NIH ORBIT model for early phase translational behavioral studies. Dr. Sheffler will work with co-PI Greg Hajcak, Ph.D., of the departments of Biomedical Sciences, Neuroscience, and Psychology.
Yanshuo Sun, Ph.D., of the FAMU-FSU College of Engineering, who will research employing emerging technologies (e.g., mobile computing) and service innovations (e.g., integrating peer-to-peer ridesharing) to lift transportation barriers faced by seniors and other transportation-disadvantaged individuals. His co-PI on the project is Jie Yang, Ph.D., of the Department of Computer Science.
As with all ISL Planning Grant competitions, the researchers are all Faculty Affiliates of the Institute for Successful Longevity.
Each researcher receives $15,500 to support their winning project.
The ISL Planning Grants are designed to promote collaboration among FSU research faculty. In addition, the program is seen as a first step toward collecting pilot data leading to federal funding.